Scholl Party Feet Gel Cushions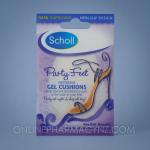 Product description
Scholl Party Feet are 'invisible' gel cushions that help prevent the burning pain in the balls of your feet when wearing high heeled shoes. Scholl Party Feet gel cushions are made of clear gel, are ultra slim and discreet. They provide non slip grip to stay firmly in place. They are re-usable and washable. With Scholl Party Feet gel cushions you can party all night and shop all day!
Directions
Peel cushions off protective film and insert into shoe smooth side down with the pointed end facing the heel.
SSL Australia Pty Ltd, Australia.
No prices listed for this product.