Trilogy Travellers Pack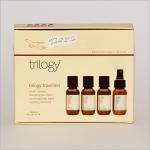 Product Description
The Trilogy Travellers Pack is perfect for air travel and a convenient way to sample four of Trilogy's most popular products. Convenient and compact, these four travel size Trilogy products are the perfect travel companion. Each pack contains:
Cream Cleanser 50ml - for soft, smooth, completely clean skin.
Hydrating Mist Toner 50ml - an instantly revitalising moisture mist to hydrate and refresh skin at any time of the day or night.
Energising Face Lotion 50ml - this lightweight, moisturiser restores skin vitality and suppleness.
Nourishing Body Lotion 50ml - combining natures most nourishing pure plant oils this lightweight lotion restores moisture balance and softness to the skin.
The Trilogy Travellers Pack is ideal for your gym bag, for travel or as a gift for someone special.
Distributed by Nutralife Health & Fitness
No prices listed for this product.