Trilogy Body Cleansing Bar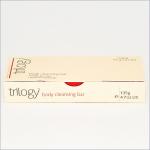 Active Ingredients
Certified Organic Rosehip Oil, Chamomile, Carrot and Aloe Vera.
Product Description
Trilogy Body Cleansing Bar gently cleanses without stripping skin of vital moisture, perfect for sensitive skin. This non-drying plant based cleansing bar has an extra creamy lather and nourishes as it clears away impurities. Leaves your skin feeling refreshed, velvety smooth and perfectly clean. Made from a base of gentle botanical oils including Evening Primrose and Jojoba. Excellent for soothing sensitive skin. Available as a 135g bar.
Distributed by Nutralife Health & Fitness
No prices listed for this product.