Trilogy Botanical Moisture Masque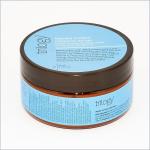 Active Ingredients
Marshmallow, Coconut Fruit, Avocado and Olive.
Product Description
Enjoy strong, shiny, beautifully healthy hair with Trilogy's luxurious Botanical Moisture Masque. Banish bad hair days with this moisture treatment for all hair types, especially those that are dry or damaged. Trilogy's unique botanical formula helps restore life and vitality, reduces frizz and fly-aways and makes hair more manageable. For hair that shines with good health. In as little as three minutes Marshmallow extract and Avocado, Coconut and Olive oils restore softness and shine and Vitamin E, Green Tea, Shea Butter and Certified Organic Rosehip Oil help improve flexibility and strengthen hair. For optimum results use in conjunction with Trilogy Gentle Moisturising Shampoo and Conditioner. Available in a 95ml pot.
Distributed by Nutralife Health & Fitness
No prices listed for this product.