Trilogy Mens After Shave Balm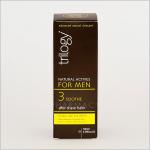 Active Ingredients
Aloe Vera, Multi-Mineral Complex M3, Licorice, Avocado, Marula Nut and Green Tea
Product Description
Trilogy Mens After Shave Balm is a soothing, post shave balm with a fragrant blend of natural essential oils to refresh the skin and help calm shaving irritations.
This soothing formula for just-shaved skin contains cooling and calming Aloe Vera and Green Tea, skin brightening Licorice extract and a combination of softening extracts from Olive Marula, Wheat Germ and Avocado oils. Available in a 100ml bottle.
Distributed by Nutralife Health & Fitness.
No prices listed for this product.