Trilogy Mens Face Wash & Scrub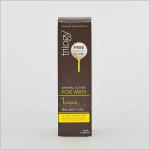 Active Ingredients
Avocado, Jojoba, Jojoba Wax, Multi-Mineral Complex M3, Marula Nut and Wheat Germ.
Product Description
Trilogy Mens Face Wash & Scrub can be used daily to lift away dirt, unclog pores and help control oil levels. Powered by the mechanical action of Jojoba wax beads and a blend of nutrient-rich Avocado, Marula, Olive and Wheat Germ oils, this cleanser will leave skin feeling fresh and comfortable. It gently scrubs skin free of daily grime and helps prevent clogged pores to maintain soft, healthy, energised skin. Available in a 150ml tube.
Distributed by Nutralife Health & Fitness
No prices listed for this product.